Complete Story

11/18/2016
2016 is Another Great Year for the OAMES Annual Meeting & Exhibition in Columbus!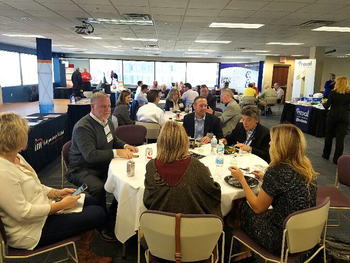 Attendees and Exhibitors Network During Thursday's Lunch
At this year's conference, we mixed up our awards program and recognized certain OAMES Gold Star Members who through the immense challenges that the HME industry faces today, have shown incredible leadership and support of the association. These providers are recognized for their stellar participation and above-and-beyond involvement as volunteers and active members attending educational events, serving leadership roles in the state and nationally, working on various projects and industry issues. Six companies have PERFECT attendance at OAMES 8 meetings the past two years. Those companies are: Columbus Medical Equipment, Cornerstone Medical Services, Health Aid of Ohio, Medical Service Company, Miller's Rental & Sales and O.E. Meyer Co.!
An additional 21 companies have attended 3/4 of the association's events. This is a remarkable achievement and OAMES is very proud to recognize the dedicated providers who through their involvement in the association, help lead the Ohio HME community towards a better, more prosperous future!
OAMES Members and Lake Court Representatives at the Social Reception
Another highlight of our conference was the sold-out exhibit hall! 2016 marked another year of amazing support from our Associate members and industry service providers, manufacturers and distributors. Many thanks to the following companies for their participation as exhibitors and sponsors: Abena, ACHC, ACU-Serve, Allegiance Group, ARI Network Services, Brightree, Cailor Fleming, Computers Unlimited, Dedicated Distribution, DME Train, Drive DeVilbiss, First Quality, Fisher & Paykel, Independence Medical, Invacare, Lake Court Medical, McKesson Medical Surgical, Miami Luken, Nestlé Health Science, Pride Mobility Products, PBE – Tranquility, Presto, ResMed, Compass Health, TRC, The Med Group, VGM Group.
And of course, many thanks to VGM for partnering with us and bringing their Fall Seminar Series to Columbus as a part of our event!
We hope you enjoyed the conference as much as we did, and look forward to seeing you next year!