Complete Story

12/03/2020
OAMES Remembers Mal Mixon
OAMES was saddened to learn of the news earlier this week on Mal Mixon's passing on November 30. He was a national legend, state treasure and dear friend to many in the home medical equipment community, including his home state association OAMES and executive director Kam Yuricich.
The following is a statement from Kam:
Mal's legacy is his service to others: as a Marine, as a business leader and as an advocate for many including the HME industry he loved. Under Mal's direction, Ohio-based Invacare grew to become a global giant that served suppliers in 80 countries. During that growth, he was acutely involved in the state and federal legislative and regulatory issues impacting the HME industry, advocating both in Columbus with OAMES and on Capitol Hill with the American Association for Homecare.

OAMES recognized Mal in a special presentation at our 27th Annual Meeting & Exhibition in Columbus on Nov. 8, 2007. He was awarded OAMES "Lifetime Achievement Award" and during that presentation, I commented ""Having worked for OAMES over the past 21 years, I've witnessed Mal and Invacare's immeasurable generosity to our state association first-hand for more than two decades. While OAMES is an organization long blessed with exceptional leaders and active, dedicated members, having Invacare in our ranks to help with the heavy-lifting of our advocacy work has been one of the biggest blessings of all. Mal is enormously respected by his peers, a fighter in the field and an inspiration to all who meet and work with him."
During the presentation, we shared personal comments we had gathered from OAMES leaders, past and present at the time, about what Mal meant to OAMES and these fellow business professionals he served. Earlier this year, I hit my 34th anniversary working for OAMES (formerly OADMEC for you old-timers!). Mal was one of the first individuals I met in this crazy industry and for anyone who knew him, you know you'll never forget his big personality and dogged determination. It was intensely inspiring!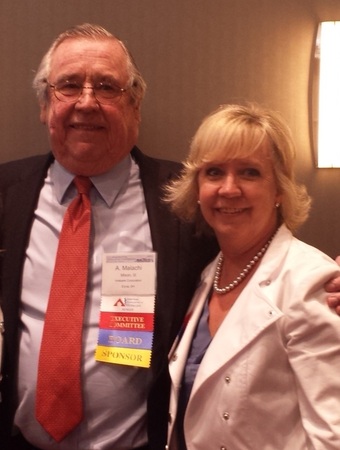 AAHomecare recognized Mal for his leadership and impact on HME policy issues in 2015, renaming the Association's Legislative Advocate Award in his honor.
Pictured here are Mal and myself at the presentation ceremonies while attending AAHomecare's Legislative Washington Legislative Conference on May 20, 2015. Click here for AAHomecare's full article on Mal's passing.
Mal is survived by Barbara, his wife of 58 years, along with two children and nine grandchildren. In lieu of flowers, the family would appreciate gifts to the Cleveland Institute of Music, 11021 East Boulevard, Cleveland, OH 44106. Interment will be private, and a celebration of life will be held post-COVID. Additional information, complete obituary and guestbook can be found at Brown-Forward.com.


Kam Yuricich
Executive Director
Ohio Association of Medical Equipment Services