Complete Story

03/26/2013
Reach Out to Congressional District Offices During Easter Recess
Great Time to Schedule Appointments and Host Site Visits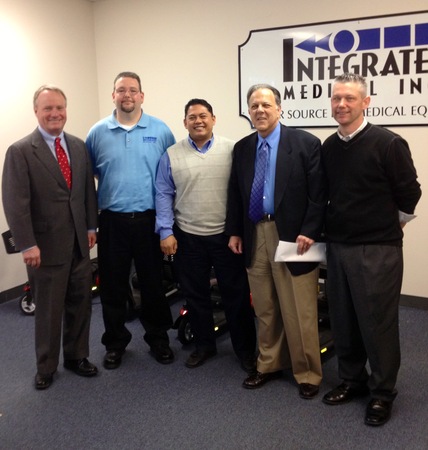 Pictured from left to right are Rep. David Joyce, Regional Manager Brian Grant and Integrated Medical owners Jeff Gamad, Gary Bajusz and Matt Isaac during a site visit on March 25 at the company's Cleveland office
Members of Congress are home until April 5 for the Easter Recess. In-district meetings are a perfect opportunity for constituents to speak about critical issues like competitive bidding with their member of Congress without having to travel to Washington, D.C. As July 1, Round 2 implementation date, quickly approaches, legislators, specifically those in competitive bid areas, must be fully aware of how the current bidding program affects both providers and beneficiaries.
Inform and educate your beneficiaries and your employees. Reach out to your competitors. Ensure that everyone is fully engaged and taking action. Coordinate and schedule meetings with your representative and senators. Stand together as an industry/community to get legislators talking in DC about the flawed competitive bidding program and the need to replace it.
If you need any assistance with how to set up your meeting, your message and handouts for the appointments, please contact OAMES executive director Kam Yuricich at kam@oames.org.